.If you look at wiring solar panels to house, you'll see the solar panels are made up of rows and columns of photovoltaic cells. Residential panels are typically six by ten for a total of sixty cells, while commercial panels can be six by twelve or even eight by twelve.
Wiring Solar Panels to House-Parallel
Each cell has its own positive and negative lead just like a battery, but clearly, we need to combine each individual cell together to make an entire panel if we wire them in parallel. That means we take the negative, leads and wire them all together and the positive leads and wire those all together. If we do that, the end result is that we will have the same system voltage, but the current will increase as the number of cells increases. If each of the cells has a voltage of 0.7 volts and a current of 7 amps, then wiring them in parallel would result in a panel with 0.6 volts and 504 amps.
This is a really bad idea, because systems at higher voltages are typically more efficient and because 500 amps would require some seriously thick and heavy wire to carry that's.
Parallel often means it will shorten service life between 10 and 15 years, and that's because they're dealing with a huge amount of current the entire solar panel system's worth so as a result, it gets hotter systems to tend to fail sooner.
Wiring Solar Panels To House-Series
Why wiring solar panels to a house, installers wire individual cells in series in series, each positive lead is wired to the next cell's negative, lead, and so on and so forth in series, the current doesn't change, but the voltage adds up.
Now we have a panel with a voltage of 50 volts and a current of 7 amps, that's much better, but there is one drawback to wiring things in series and that's shading. If shading falls on a cell in parallel, it doesn't affect the other cells, but in series, it does now that we have one individual panel, all wired up. Let'S extend this analogy to the entire system of panels. The first consideration here is a choice of the inverter. Most solar systems have a string inverter one massive inverter that will take the input from all of your panels, inverted to dc.
Microinverters
The other option would be micro inverters, where, instead of one big inverter, you place small micro-inverters under each and every solar panel. Alright, so
The benefits of a string inverter are they're, much cheaper. Traditionally, if repairs are needed, it's easy to access, because it's typically in your garage, if you have a home battery, you can bypass the inverter and just charge directly to the battery using dc. If the inverter fails, your entire system is out of producing electricity.
Fallback
So it's a one-point: failure inverter goes down. Your entire solar system is doing nothing since panels would be wired in series. Shading on one panel will hurt output from all the other panels, so, depending on where you live, shading is going to either be a big deal or not. . So shading may be a major consideration for where you placed your panels.
This is a consideration if you're going the string inverter because, based on the inverter's working input range, installers will wire your panels into groups of series and parallel to achieve the correct voltage.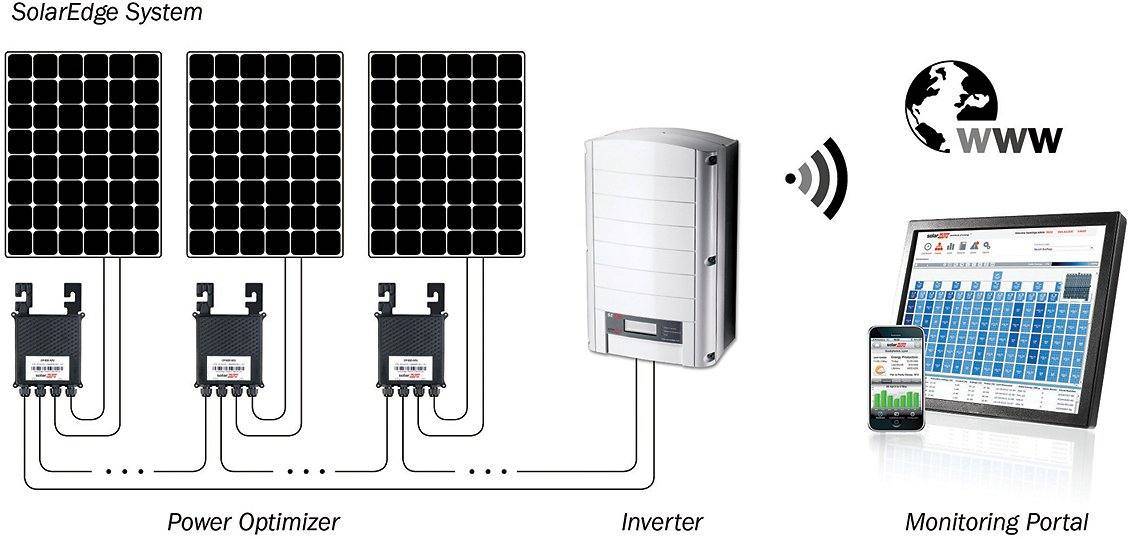 Power Optimizer
But don't worry if you have lots of trees or shading sources, there is a device called a power optimizer that you can add under each panel to help with this with the power optimizer, you have the benefits of a micro-inverter, where shading on one panel won't Hurt the others, but now you do have more hardware, because well now you have something under every panel and a master string inverter at the bottom of the house as well. In contrast, microinverters are many instead of one. The pros here would be that shading on one panel has no impact on any other. That'S because each and every solar panel is working by itself because each inverter only deals with one-panel currents are lower and the microinverter can last about 25 years or more.
if one micro-inverter fails well, you just lose the output from that one panel. The rest of your system is unaffected, unlike in the string inverter case, all right so now for the cons. Price typically microinverters are more expensive, because if you have 20 solar panels, you need 20 microinverters, though not always because if you have to get solar optimizers because of shading for your string inverter, those costs might add up so be sure to ask those questions to Your installer and make sure you factor all that in and if there is a failure. Well, now you have to get on your roof and deal with a solar panel.
FYI: Unless you're qualified don't try wiring anything, Wiring solar panels to house usually require an electrician
It's much harder to work on than it is on a string inverter in your garage. And lastly, if you have a home battery, then you'll be inverting dc from the panels to ac to dc again to charge the battery, which is what I'm doing for my tesla power wall. And it's not exactly ideal. Because now we have two inversion operations and so you're losing efficiency at both of them. Unless you get an absolutely massive system, you probably only need one string inverter, but if you opt instead for micro, inverters you'll need as many inverters as you have panels.
This gets into some of the tough questions you probably have. Should I get more efficient, more expensive panels and get less of them or get less costly panels and get more of them really it's a question of how big a roof is and some other things. If you like this article and want to learn more about wiring solar panels to house?
I'd Like to thank Ricky at "Two Bit da Vinci" for this video. I recreated the article from his awesome video. You can find more complete videos just like the one here for solar wiring and more on their channel on Youtube!
Check our blog for more details on solar, how solar works, and more.